.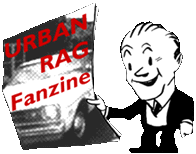 Urban Rag is a Digest-sized, free, PRINT fanzine with reviews news and views. It's also online with some extra reviews and photos.
Want a sample issue? Care to subscribe. It's distributed in record shops, coffee houses, book stores, and select clubs nationwide through a network of grass roots distributors.
If you know of a good spot to send some, please let me know, and off they'll go.
Ad rates and info. Distribute at shows (it's free, remember) for discounts.
Urban Rag subscribers read the hard copy around the world.
To subscribe, send $5 for five issues.
Send music, poetry, scene reports and pics to
Urban Rag Fanzine PO Box 812 Tannersville, NY 12485
or by email.
Call (518) 734 6985 for more info.